AsiaSat's vast experience and quality services were showcased to an international audience earlier this month in Singapore at the CASBAA Satellite Industry Forum and the CommunicAsia Exhibition and Conference. We were thrilled to share our insights on industry developments, and present and reflect on AsiaSat's values and expertise to customers, partners and industry delegates through the following activities:
- Welcome Address and Asia Pacific Satellite Leadership Round Table discussion at CASBAA Satellite Industry Forum
- A refreshing CommunicAsia booth with new brand style
- An update session for customers, partners and prospects
- Satellite Operators Panel discussion at CommunicAsia Conference
Highlight along with our new brand introduction at this series of activities was the announcement of our latest UHD broadcast Initiative in Asia – the plan to launch Asia's first UHD platform on AsiaSat in the coming months.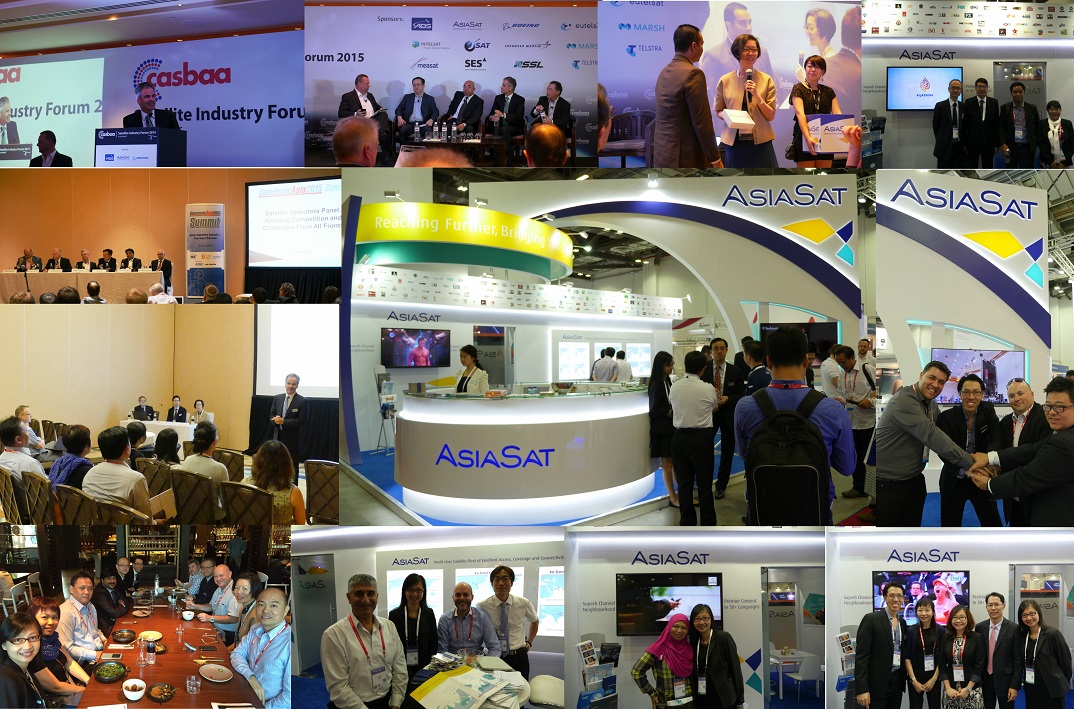 CASBAA Satellite Industry Forum on 1 June
William Wade, President and CEO of AsiaSat gave the welcome address and participated in the industry's panel discussion. He expressed the challenges associated the unsustainable market conditions that the satellite industry is facing and advocated industry partnership and collaborative innovation to move forward.
AsiaSat also sponsored a lucky draw at the forum where the lucky winner took home an ipad mini 3!
CommunicAsia Booth Highlights, 2-5 June
CommunicAsia maintains its position as the integrated platform for industry professionals to congregate and companies to announce major launches and partnerships. It drew more than 22,000 show visitors from 81 countries over the 4 days with over 40% from overseas.
This year AsiaSat refined our brand identity and faced the world with refreshing new image. The booth was designed and built in three signature brand color and embedded new logo and tagline nicely and seamlessly. The refresh look and feel of the brand was well received by the industry with overwhelming acknowledgement of our renewed commitment to innovation and improvement to deliver services that best meet the changing needs of customers and partners. The AsiaSat team worked together to present the approachable and partnering quality.
AsiaSat Update Session Highlights
An update session from AsiaSat was conducted at Marina Bay Sands on 3 June for customers, partners and prospects.
Presentations on the following topics were given to share with participants AsiaSat's latest developments and industry insights:
- AsiaSat's Brand Evolution and Service Initiatives by Sabrina Cubbon Vice President, Sales and Marketing
- UHD with AsiaSat by Alan Wong, Manager, Project Management
- AsiaSat Vision: Ka-band and High Throughput Satellite (HTS) by Fred Ho, Director, Technical Operations
Panel Discussion @ CommunicAsia Conference
On 3 June at the Satellite Operators Panel discussion at CommunicAsia Conference, Philip Balaam, Vice President of Business Development joined the hot discussion on the future of UHD in Asia, following AsiaSat's announcement of its latest UHD broadcast initiative. Balaam shared his views that the emerging part of UHD in Asia would be phased, while general industry opinion was that growth would increase imminently as observed in the history of HDTV development.