Protect your C-band Service
In response to a gradual deployment of 5G services across the Asia-Pacific, AsiaSat has begun the development of 5G interference rejection bandpass filter (BPF) since mid-2018, as one of the various mitigation measures to protect our customers' C-band traffic against out-of-band interference from nearby 5G base stations.
This new filter is co-developed by AsiaSat's product team who has extensive experience in space filter specification design, simulation and hardware testing, and the microwave expert in Hong Kong and hardware vendors experienced in ground telecom filter manufacturing.
With the launch of the first in the series - BPF-3700S, the model specially designed for 5G spectrum requirements for China and Hong Kong SAR markets, and verified by the Academy of Broadcasting Planning of the National Radio and Television Administration (NRTA), AsiaSat has now developed 11 different models to address the needs of different markets, including the BPF-4230 model with add-on features to suppress radar signals generated by altimeters built on aircraft.  
These high performance bandpass filters have been extensively installed in customers' antenna sites across Greater China, South Asia, South East Asia, Australasia and the Middle East.  They have proven to be effective in preserving the quality of satellite transmission, even with 5G base stations operating within close proximity. 
Contact our expert team NOW, we will provide the best solution that meets your needs.
AsiaSat BPF's Key Benefits
Flexibility: Customised solution for different 5G bands in different countries. A series of models available with optimised rejection and passband to reject 5G spectrum up to 3.6, 3.7 and 3.8 GHz
Performance: Excellent RF performance on both the in-band and out-of-band
Compact: Standard WR229 interface, 12cm length and less than 530g mass. One of the shortest and lightest BPFs in the market
Reliability: Warranty up to two years, the longest in the market, which assures safe use of the BPF products
Field Test Results
Out-of-band 5G interference rejection: Can suppress interference signals from 5G base stations in less than 100m with full power transmission
In-band satellite carrier link margin degradation: AsiaSat BPF in-band result outperforms other filters over the standard FSS C-band frequencies. Below is the satellite TV carrier MER degradation test result, compared to the performance of the configuration without a BPF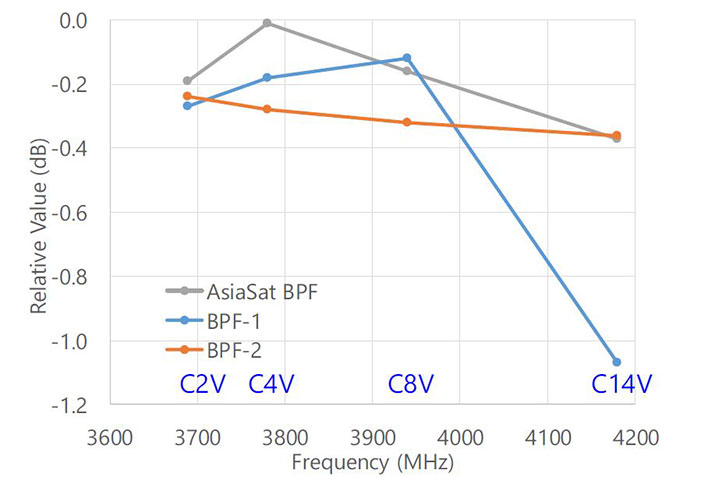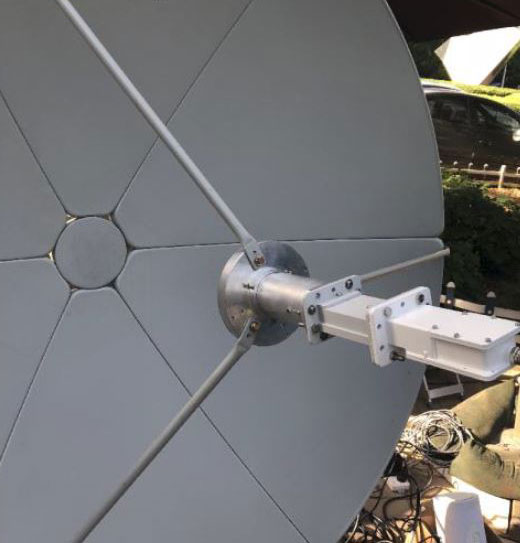 The compact size AsiaSat BPF installed between the antenna OMT output and the LNB input in a 3.7m TVRO antenna.
Interested in installing a BPF for your antenna? Watch our new video below.
| DOWNLOAD |   |
| --- | --- |
| AsiaSat 5G BPF Product Leaflet | VIEW PDF |
| AsiaSat 5G BPF-3625 Spec Sheet | VIEW PDF |
| AsiaSat 5G BPF-3646 Spec Sheet | VIEW PDF |
| AsiaSat 5G BPF-3660 Spec Sheet | VIEW PDF |
| AsiaSat 5G BPF-3700M Spec Sheet | VIEW PDF |
| AsiaSat 5G BPF-3700S Spec Sheet | VIEW PDF |
| AsiaSat 5G BPF-3700T Spec Sheet | VIEW PDF |
| AsiaSat 5G BPF-3800R Spec Sheet | VIEW PDF |
| AsiaSat 5G BPF-3800S Spec Sheet | VIEW PDF |
| AsiaSat 5G BPF-3825 Spec Sheet | VIEW PDF |
| AsiaSat 5G BPF-3900S Spec Sheet | VIEW PDF |
| AsiaSat 5G BPF-4230 Spec Sheet | VIEW PDF |
| AsiaSat 5G Interference Rejection Bandpass Filter White Paper | VIEW PDF |
| AsiaSat White Paper : A Real-World Case in Solving a Problem with BPF Installation | VIEW PDF |
| AsiaSat White Paper : Choosing the Right Spectrum for 5G | VIEW PDF |
| AsiaSat White Paper : Considerations for Selecting the Right 5G-Rejection Bandpass Filter | VIEW PDF |