1990 was a very remarkable year—not only for AsiaSat, but also for the development of the Asian satellite industry and the history of China's international space business. At Hong Kong time 21:30 on 7 April 1990, AsiaSat's first satellite (AsiaSat 1) was successfully launched by the Long March 3 rocket from Xichang, China, and Asia's first privately owned regional satellite was born!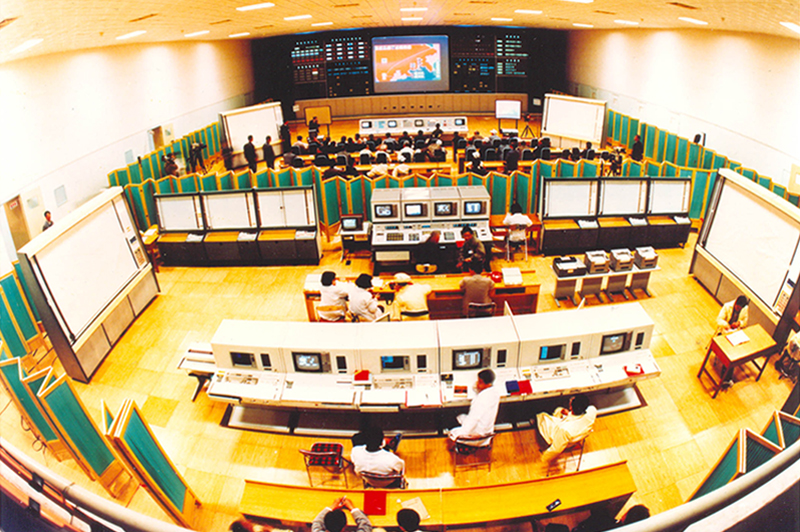 AsiaSat 1 was an amazing venture in Asian satellite history. It began its life as Westar VI, a satellite designed and built by the Hughes Aircraft Company. Westar VI was launched by the Space Shuttle in 1984, but after being released into space by the shuttle, the final stage thruster failed to lift the satellite into geostationary orbit. One year later a special shuttle mission retrieved the unused satellite and returned it to its manufacturer. The satellite was found to be in excellent condition and fully capable of performing all the communications tasks for which it had been designed, AsiaSat purchased it and contracted Hughes, the original manufacturer, to refurbish it and change the payload to meet the Asian region requirements. It was renamed AsiaSat 1.
On the 23rd of January 1989, the service contract for the launch of AsiaSat 1 by the Long March 3 rocket was signed with China Great Wall Industry Corporation. In only 14 months, China Great Wall Industry Corporation successfully put AsiaSat 1 into the designated orbit. AsiaSat successfully made Asian television history and played an integral part in fostering the development of satellite communications and broadcasting in the Asian region.
The successful launch of AsiaSat 1 indeed had very significant and historical implications. It was one of the most ambitious and far-reaching telecommunications projects undertaken by a Hong Kong based company at the time. The launch of AsiaSat 1 truly represented the coming of the age of satellite communications in Asia as well as the beginning of China's commercial launch service to the international market. AsiaSat 1 provided effective and low-cost communications services for Asian countries, and for the first time remote communities were easily and reliably linked to national and international communications systems.
Though AsiaSat 1 was originally intended for telecommunications, the satellite was used in supporting a wide range of broadcasting applications when it commenced commercial service in May 1990. During the 11th Asian Games held in Beijing from 22 September to 7 October 1990, AsiaSat provided free satellite capacity on AsiaSat 1 to meet the CCTV's broadcast needs for the Games. This was the beginning of AsiaSat's provision of satellite service to the China market.
The advent of AsiaSat 1 had further widened the broadcasting horizon in Asia when Richard Li, son of Hutchison Chairman Li Ka-shing, made a bold decision to enter the regional satellite TV business by establishing STAR TV and creating a bouquet of television channels to be distributed on AsiaSat 1. In 1991, STAR launched a number of new pan-regional channels including STAR Chinese Channel, STAR Prime and STAR Sports, opening a new era of television broadcasting in Asia.
AsiaSat 1 also played a significant part in China's aerospace history. AsiaSat 1 was the first international satellite launched by China using China's self-developed Long March series rocket. The tremendous success of the AsiaSat 1 launch enabled the Long March rocket to enter the international launch market, which was a significant step allowing for entry of China's satellite launch service to international satellite communications arena, ushering a new era of international cooperation for China's aerospace industry. In addition, the satellite capacity provided by AsiaSat 1 had made available the satellite capacity that was needed for telecommunications and broadcasting services to support the takeoff of China's economic reform, indeed having a very far-reaching impact on the economic and social development of China.
AsiaSat 1 honorably retired in February 2003 after 13 years of service, an extended mission life as the satellite was originally designed for a life of only 9-10 years.